DGC 6865 AM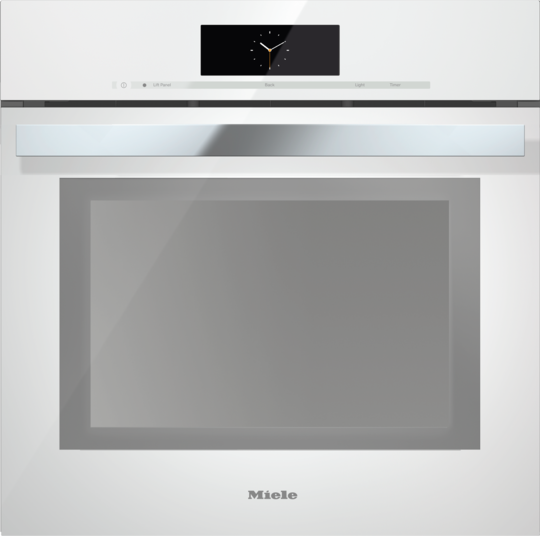 Miele steam oven with full-fledged oven function and XXL cavity – the Miele all-rounder with water (plumbed) connection for discerning cooks.
Why Use a Steam Oven?
Steam ovens keep moisture in better than traditional ovens and cook more evenly. Steam ovens preserve nutrient dense food, keep it's color better, and eliminate the need for oil. Steaming also prevents cross-flavoring, so you can cook a salmon and chocolate torte at the same time without getting a fishy dessert. A combi-steam oven, sometimes called convection-steam oven, helps you get your holiday cooking done faster and with more health benefits. It will do just about everything a microwave oven will, including defrosting and reheating, with one exception: It won't make microwave popcorn.
How are Steam Ovens Different from a Convection Oven?
A combi-steam oven, sometimes called convection-steam oven, will do just about everything an oven can do. The key difference is that the steam function allows you to cook with moist heat at low temperatures, which helps retain more nutrients in your food. It's healthier for you and better tasting too.
Other Features of the DGC 6865 AM Steam Oven
This industrial strength steam oven has diverse uses in restaurants or large kitchens, but would also function very well as a second oven in a home kitchen. Even though it is industrial strength, this unit is designed to be easy to use so even home cooks will have no problem figuring out how to work it. This oven has two separate cavities that can be used independently or together.
What is MultiSteam Technology?
MultiSteam technology means you can steam and convection bake at the same time, so your food cooks more evenly. There are 6 different cooking modes in all: Convection, Steam Baking, Steam Roasting, Steaming with Degreasing Function, Steam Pizza Dough Rise Function and the Auxiliary function for keeping roasted meat warm. The Auxiliary function keeps roast meat hot without drying out while still maintaining its flavor by circulating moist air around it. Three wire shelves slide out of this oven for easy loading and unloading while stainless steel construction provides an attractive surface that is also hard wearing. This oven comes with several accessories including a griddle tray to cook pancakes or tortillas, a pizza stone with steam injection, and an enamel drip tray for catching drips while you are cooking.
Combination Steam Oven
Versatility for perfect roasting and baking results. Steam cooking and other operating modes in a combination of your choice: Temperature (104°F to 437°F) and moisture content (0% to 100%) can be adjusted individually and changed up to six times in quick succession. This way you can enjoy the greatest versatility for the best baking and roasting results.
Why Choose Miela?
There are many good reasons for choosing Miele. Since the company's founding in 1899, Miele has remained true to its "Immer Besser" brand promise. This means that we will do all that we can to be "Immer Besser" (forever better) than our competitors and "Immer Besser" (forever better) than we already are. For our customers, this means the peace of mind of knowing that choosing Miele is a good decision – and probably the decision of a lifetime.
Outstanding quality
Miele appliances, whether used for laundry care, vacuuming, or in the kitchen, are subjected to the strictest stress and endurance tests before their market launch. Miele has won many tests carried out by the Stiftung Warentest, a German consumer watchdog organization, proving why we are the number-one choice.
Miele design
Our design represents innovation, value, and timeless elegance. It shapes the user experience – meeting expectations, facilitating handling, and creating trust. Numerous earned attest to Miele's design excellence.
Sustainability
Protecting people and the environment and doing business responsibly, for generations to come. That's what sustainability means to us. More specifically, we want to ensure energy efficiency and resource conservation with our products and production processes, and also to take responsibility for our employees and company. Miele holds the German Sustainability Award, is a member of the UN Global Compact sustainability initiative, and is a signatory of the "Diversity Charter".
History
Two families, one company: founded nearly 120 years ago by engineer Carl Miele and businessman Reinhard Zinkann, Miele still belongs exclusively to direct descendants of the pair. With 11 employees, 4 lathes, and a drilling machine, Miele and Zinkann launched their first cream separators and butter machines in 1899 in Herzebrock, Germany. Their guiding principle, "Immer Besser" – which translates as "Forever Better", still shapes the company today. The business has remained in family hands ever since.
Competition
The closest competitors for steam ovens are steamers and microwaves. Steamers resemble steam ovens and can be used to cook food faster than a microwave, but do not have the same moisture retention and steaming capabilities. Microwaves often cook unevenly and can give food a rubbery texture if overcooked, while steam ovens keep moisture in better than traditional ovens and cook more evenly. Steam ovens also keep more nutrients in your food, keep its color better, and eliminate the need for oil.